We are Rocks Off, and we rock, cuz we care. There is nothing we love more than putting on ass-kickin shows, with hot bills of bands in clubs & environments that don't suck.
We like awesome bands, big stages, crisp sound, bright lights, & most of all – fun people. Our flagship event is the Rocks Off concert Cruise Series. We run close to 200 concerts, parties and events on boats from April to October, and sometimes even beyond. We also produce shows in venues all over NYC – Bowery Ballroom, Music Hall of Williamsburg, Brooklyn Bowl, Highline Ballroom, Terminal 5, Irving Plaza, Gramercy Theater, Mercury Lounge, Bowery Electric, Knitting Factory, The Bell House, and many more.
So come check us out sometime in one of our venues, or get out on the water for a cruise with us. You'll be glad you did. We promise.
---
Jake Szufnarowski
Bossman / Head Talent Buyer / Cowbellist
Jake[at]RocksOff.com
When not booking shows or playing host to all the wonderful women who board the Rocks Off Concert Cruise, Jake can usually be found playing golf, riding his motorcycle through congested city streets or out in the woods, and working as a confidential informant for the NYFD arson squad. Jake's favorite color is red, his favorite food is Italian and his favorite past-time is high fiving
himself for making it to 36 years old and not having any children. He is also the creator of the massively popular website "ThingsThatLooksLikeCockNBalls.com" and the Facebook Page "GoFuckYourself", of which his mom is wildly proud.
Sancho Dominguez
Enforcer / Lover / International Man of Mystery
Sancho[at]RocksOff.com
Sancho was the first employee of Rocks Off. He met Jake through his brother Flaco Dominguez who Jake used to tag team with in the spring pro wrestling league "Prohibida Futura Lucha Dominica." Jake wrestled under a mask and went by the ring name "Motociclete Muchacho". Sancho ran our NYC office from its inception in 2001 until 2005 when his homeland was struck by
Hurricane Guillermo. Sancho moved back to the DR to help his family rebuild their Cockfighting Empire, which is the largest on the north shore of the island – boasting eleven different Cockfighting arenas! In the spring of 2006, once internet service was restored to the DR, we were able to provide Sancho a work-from-hammock position. He now handles all of our online customer service inquiries and select band bookings from his laptop on the beach of Cabrete.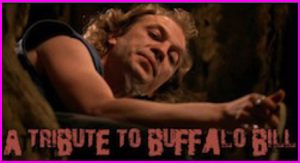 Buffalo Bill Mulvey
Production Manager, Sound Enginer, DJ Extraordinairre, Luddite
VanillaG[at]Hotmail.com
Buffalo Bill was once frozen on ice, and hence frozen in time. We bumped into him once with the Half Moon and our 'Love Captain' Roland thought it was an iceberg and that we were sinking. Turns out all it did was put a dent in the hull, and we fished the giant
block of ice and de-thawed it, releasing Buffalo Bill back into the wild environs of Rocks Off. As soon as the first ray of sunlight hit his glistening iced-down torso he grabbed the microphone and the DJ console and made sure the whole cruise rocked the fuck out.
We're pretty sure he was frozen in the late 90s, based on his flip phone, hotmail.com email address, and a love of actually calling people on the telephone. That plus his aversion to any music recorded after 1999.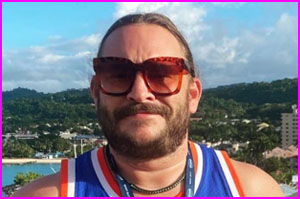 THE Notorious Patty D
Stallion / Mare Wrangler / General Manager
Patty D began his concert biz career under the suspicious and intimidating eye of the Israeli Naval Whiz Tsion The Terriblé. And it only got worse from there. Until, one day in the year of our lord two thousand and seventeen, we obtained his working papers with an incredible bluff in a high stakes poker tournament of industry flesh traders. Patty D, much like Dr King Schuktz's Django, soon earned his independence and often wears a fanny pack, speedo and not much else. Come and pay him a visit aboard most Rocks Off Cruises, busses and if you dare, even riding the occasional porpoise. With purpose.